"Wanting to share my passion and knowledge of Korean cuisine is what sparked the idea of starting The Korean Pantry.
Something fundamental in Korean cooking is knowing how to balance everything. How one dish enhances or cancels the effects of another. And I truly believe that it is something missing or forgotten in Western food culture.
Probiotics, and therefore kimchi and other fermented Korean dishes, are now proven to have a beneficial impact not only on your gut health. but also on your mental well-being.
Korean food is more than a fabulous mix of delicious dishes. It is food that is good for your health and your soul.
By showing you how to make kimchi and other dishes, I will share more than recipes with you. There will be culture facts, history, personal anecdotes, travel stories and  above all, great fun.
I will soon share below the different classes I organise, from making kimchi to a full 5 courses Korean meal. Stay tuned !"
Cindy
My classes are taught in the comfort of your own home, for up to 6 people (depending space).
I can travel all around London or close to the South East London area. Other locations might incur additional travelling expenses.
The classes last about 3 hours and are fully hands on. Expect to chop chop chop ! They are followed by a lunch or dinner made with the dishes we'll create together plus some additional dishes I will bring or cook in front of you. All ingredients are included in the class price and you will receive the full recipes afterwards.
Class prices vary depending the menu chosen. The minimum charged is £250 (for 1 or 2 people) and then £90 for each additional person.Full payment is requested on booking. If you were unable to attend the class, I offer either partial refund (75% refunded) or a reschedule of the class if given more than 7 days notice. The class will need to be reschedule in the following 3 months.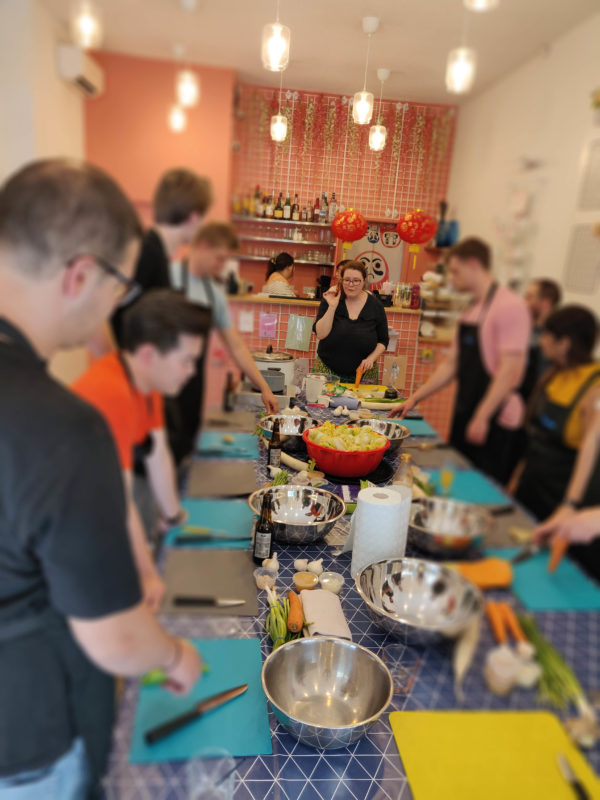 Team building events, Christmas parties, stag/hen do, birthdays, Kpop fans, I can organise a group class for you. I work with a selection of restaurants and kitchens available for private hire. Get in touch and I will tailor something especially for your needs.
I'm very happy to announce that I will also be teaching virtual cooking classes this winter. The classes will be as hands on as you want them to be : you can cook along or relax, sit back and just make later. And you will be able to join from anywhere in the world!
I invite you to see below for more informations on the next class. If you have any question or recipe requests, you can contact me at hello@koreanpantry.co.uk
"We really enjoyed our time and it was really fun! Thank you again for all the effort you put into this - I'm sure it's an event we'll keep talking about for a long time to come."
"I really appreciated how authentic you made everything, not compromising on anything... Not even using chocolate inside the fish waffles an using red beans!"
"Thank you so so so much for hosting us yesterday and for all your efforts. Everyone's been talking about all the yummy food this morning and how much they enjoyed themselves and all the fun we had! We wish you all the best with your future classes!"
"I was fascinated and thoroughly enjoyed the whole experienced as Cindy is so friendly and keen to share her passion for making kimchi. Most importantly I made not just decent but amazing flavoured kimchi. I will never go back to bottled kimchi.....ever!"
"I learned so much in my 1-1 workshop with Cindy and had a lot of fun. It was so rewarding being able to taste it right after the workshop along with a delicious meal that Cindy prepared. Highly recommended!"