Kimchi Brunch Toast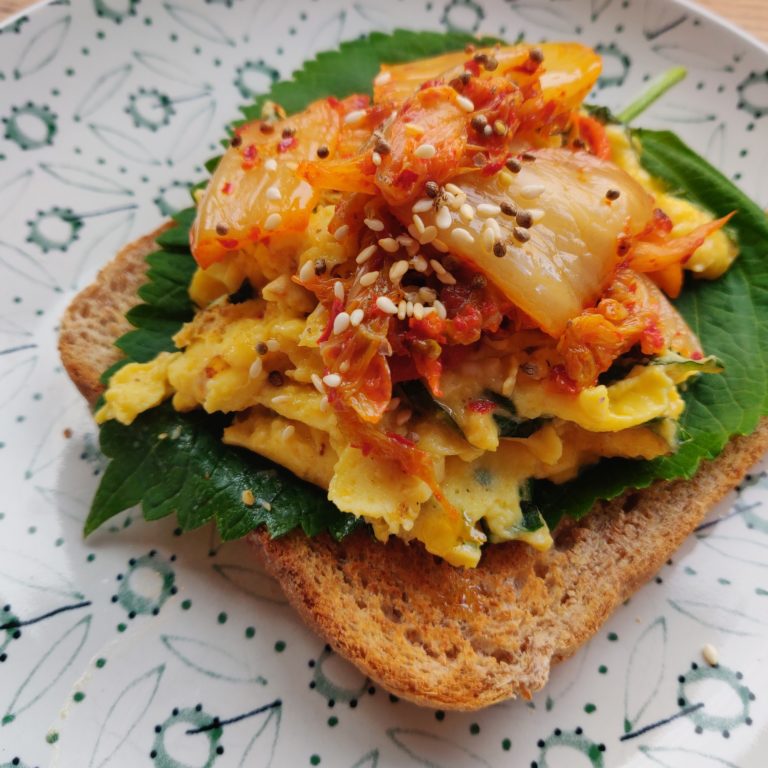 김치 브런치 토스트
Ready under 15min DIFFICULTY Easy
Ingredients :
2 slices of sourdough bread
120g kimchi
3 eggs
1/4 teaspoon doenjang (Korean fermented soy paste) or 1/2 tsp salt
1 spring onion finely sliced
3 perilla leaves
1 tsp sesame oil
Sesame seeds
Salted butter (use cultured butter if possible)
Cooking instructions :
Toast two nice slices of sourdough bread and butter them.
Stir fry the kimchi in a little vegetable oil, on high heat, until soft and extra tasty.
Beat your eggs together with the doenjang ( it's powerful stuff so go easy on it).
Add one perilla leaf, chopped very thinly to the mix.
Cook the eggs with a good dollop of butter, on medium heat. Don't overcook them.
Layer a perilla leaf on your toast, add the eggs and a generous amount of kimchi.
Drizzle with a little sesame oil and sprinkle sesame seeds.
Enjoy!
Did you cook this dish?
Post a picture on Instagram and tag us in!